The ultimate panorama and gimbal head is shipping very soon. The PG-02 from Really Right Stuff is awesome. I had the opportunity to test the PG-02 prototype during my yacht-based photo tour to Alaska this past spring.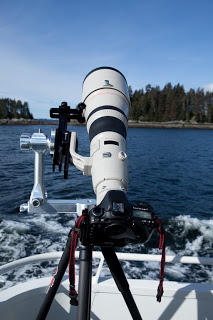 The PG-02 prototype with Canon EOS 7D and EF 800mm f/5.6L
In addition there is a RRS long lens stabilization kit attached.
As many of you know I do not beat around the bush with most of my opinions and recommendations. So in a quick few sentences here you go.
For the long lens action shooters, this is the best gimbal head available. I compared head to head with the other industry leading options, in the field, with big bodies/long lenses (Canon 1D series and up to the EF 800mm f/5.6L,) shooting high-speed, high track crossing rate action, and from a moving (forward, roll, pitch, and heave) platform. There is no comparison. The Really Right Stuff PG-02 is the best. Well balanced, smooth, and silky the PG-02 was incredible.

For the panorama shooter, the PG-02 is a multi-axis pano head. Equivalent performance to the Really Right Stuff Omni Pivot Pro Pano Kit. Shooters can easily locate their no parallax point/entrance pupil and align it with the axes of rotation. As a pano shooter, this is great gear since it not only performs equal to other RRS pano gear but does triple duty: pano, gimbal, and video.
For the video shooter, the PG-02 is the smoothest, silkiest pan you will experience. Moreover, the pan glides perfectly regardless of the overall tension on the head. Whether loose or tight, you will not experience any kind of jerking or sloppy pan.
For audio or additional gear, there is another threaded screw on top of the vertical arm that accepts equipment directly or even another ballhead. In the field, we mounted another ballhead as well as small, point and shoot cameras to capture action as we worked the main body/lens.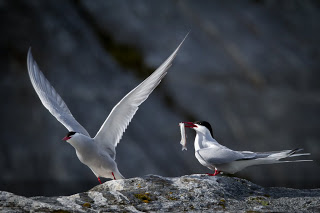 Image from PG-02 with Canon 7D and EF 800mm f/5.6L
As you know, I always give full disclosure. Really Right Stuff does not pay me to endorse their gear. I use it because it is the best.
Check out the PG-02 at the following link.
I will demonstrate the PG-02 at the California Photo Festival next week. There are still spots available so join us
.
Fiat Lux!