This weekend we had a fun and festive Meet Up with our members here at Light Workshops. Our original plan had been a sunset shoot out at Montaña De Oro, but the weather kept us indoors. We made the best of it with a few different macro setups, yummy snacks and egg nog!
We brought out the Canon 100, 180 and 65mm macro lenses and captured some fun images of a lovely poinsettia, household spices, and our school Christmas Tree. While normally you might not think to take pictures of cinnamon and sugar or the ornaments of a Christmas Tree, but with a macro lens these subjects become much more interesting and beautiful.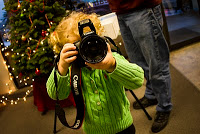 We also introduced a new assistant to our members Saturday. Miss Reagan Schmitt was at the school giving advice to those who needed help with proper exposure and focal length for their subjects.
This was our last Meet Up of 2010 but we'll have many more in the new year. If you would like to join our Meet Up group visit the Light Workshop's MeetUp.com Page. If you're already a Light Workshops member and have any ideas for future Meet Ups, don't hesitate to share them. Also visit LIGHTWorkshops.com for our most current list of photography workshops.
Happy Holidays Everyone!
and...
Fiat Lux!