This past week I was able to bring in a local clothing company called Mika Yoga Wear. With help from our assistant, Becky, we were able to create a stand, shoot and deliver work-flow that was efficient and, well, it looked good! Using our new plexi-glass sheet for a small amount of reflection it gave a different feel than just standing on a white background. With 2 sets of the ProFoto D1 packs, a beauty dish, an octa box and two umbrellas to blow out the background.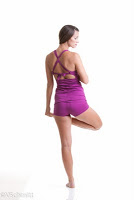 With a quick edit through Lightroom 3, I was able to sync enough of the images to make cropping and retouching a breeze.
I have to say that yoga girls are a lot of fun to photograph. They show the beautiful form of the female figure. I was able to shoot tethered so that the designer and yoga instructor, Laura, could look over the images while we shot. Laura, in fact, seemed to have a lot of experience and was able to bend in some awesome poses as well.
The clothes worked well and they have an interesting design to be comfortable, bend and look good.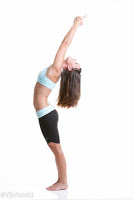 I was able to meet Laura and have this great opportunity through our California Photo Festival Website designer, Sebastian of SLO Digital Designs. For those of you who haven't been to the newly designed website, please visit! He did a great job on it!
At the festival you will be able to have the chance to use the studio as well. You can learn the Digital Fine Art Figure with Hal Schmitt. Hopefully we will have a full week workshop in this as well coming this fall or winter!
Hope to see you all here soon!
-Victoria