A quick post celebrating one of life's true pleasures, amazing food! As many of you know I have been fortunate to do some incredibly exciting and adventurous things. On occasion I have used the following expression trying to describe my former line of work flying high-end fighters for the Navy. People would ask what it was like to rage around the sky pulling Gs at high speed and low altitude and I would say "Simply put, it is the most fun you can have with your clothes on," and it was. Unfortunately, I can say now that I was mistaken.

Onboard the Northern Song, I was lucky enough to sample two of the most incredibly savory and tasty (a technical term) dishes known to my red-blooded, American male palate, white (also known as ivory) king salmon and sake marinated black cod . I will admit that I had neither heard of nor tried either of these before our recent cruise but will never forget them.

Prepared under the talented hands of Chef Ocean and Captain Dennis these two fish were transformed into the most delectable and mind blowing meals. I can now state diving into perfectly portioned, seasoned, and cooked wild Alaskan white salmon and sablefish could be the most fun you will ever have...with your clothes on, that is.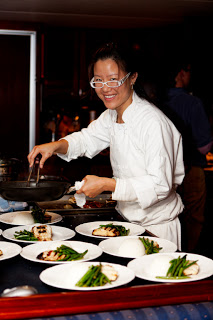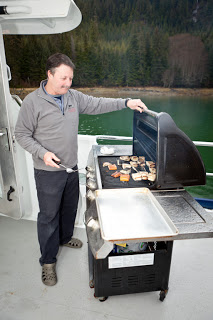 To make it even better both of these fish are remarkably good for you, a veritable bonanza of Omega-3s. Do yourself a favor and try them out. Two sources are Coastal Cold Storage in Petersburg, AK and Vital Choice. Coastal Cold Storage may be contacted in Petersburg or via their website. Take a look at Vital Choice's website here.
It was awesome to watch the tour participants eagerly await each meal and then attack when the food was served. Cannot wait to taste what our July trips will offer!
On a photography note, all images were shot with a Canon 5D Mk II and either an EF 24-70mm f/2.8L or an EF 100mm f/2.8 macro. I used a 580 EX II flash bounced off the ceiling and filled with a bounce card.
Fiat Lux!