I have taken a few days to reflect on last week's Alaska photo adventure. The only way I can really describe it is with the word amazing. The yacht, the crew, the participants, the weather, the landscape, the wildlife, the food, the camaraderie, the experience, the everything...amazing.

It is almost unbelievable the diversity of subjects we found in just one day. As an example, one day's worth of shooting included hundreds of eagles, bubble feeding humpback whales, cruising killer whales, tens of thousands of seabirds, alpine landscape, temperate rainforest, deep green fjords, waterfalls, mountain goats (billies, mommas, and kids,) bears, seals, otters, glaciers, calving glaciers (will post my 20 shot sequence of a 200 ton block of ice falling...wow,) and more. Literally one day packs more than most will see in a week.
With that many subjects it can be a daunting task to photograph them all. I hear too many photographers say "I am a landscape photographer," or "I only photograph birds." Often the explanation is something like "I don't know anything about landscape (or birds, or portraits, etc.) I do not understand that. Although one subject may interest a photographer more than another the actual photography is remarkably similar; it's all about the light. If we understand light then most photography becomes available to us immediately.
Our cruise participants quickly learned they could not specialize while on the trip, there were too many fantastic opportunities. Tactics, techniques, and procedures might change a little for different subjects but there were some important constants.
One of the real "tricks" regarding any subject (especially wildlife or people) is you must know the subject. Learn the environment in which they live, learn the behavior, learn the communication, etc.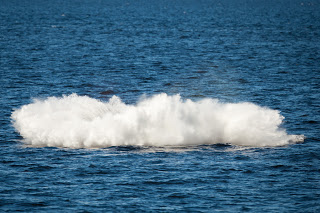 For example, I wanted to capture a breaching humpback whale. Initially that did not seem so easy with dozens of whales spread from horizon to horizon. As I learned the light, I set up my camera for the proper exposure and enabled the settings to capture action. I then sat back and watched. I tried to learn the behavior and patterns of the feeding whales. One in particular caught my attention as he would feed for a while (using bubble net patterns by himself, will discuss those more on another post) and then commence to long session of tail slapping.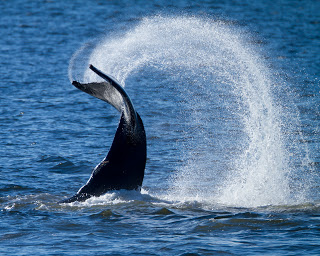 After ten minutes of banging his tail around three or four breaches would occur. Well I did not get the shot I wanted from the first session but soon saw the pattern repeat and was ready (pattern repeated throughout the morning for over three hours.) Learning all we can about a subject not only makes for better photographs but also allows us to try and understand different animals, environments, and ultimately, ourselves.
More later.
Fiat Lux!